Adrenaline potion
Discuss

15
24,283pages
on this wiki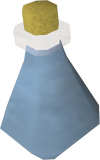 Adrenaline potions are made by players using the Herblore skill. It requires a Herblore level of 84 to make. When the potion is drunk, the player will regain 25% of their adrenaline bar. Prior to the Evolution of Combat, the same recipe was used to create Recover special potions. All existing recover specials were automatically converted to adrenaline potions.
Boosts such as Greenman's ale can be used to make this potion, and the potion can be drunk at lower levels.
A super energy potion (3-dose) and a papaya are the ingredients required to create this potion. Making this potion will give 200 Herblore experience. The potion cannot be made with the assistance of others.
This potion can only be drunk once every 120 seconds (two minutes).
When fighting Airuts it helps to keep Flurry/Rapid Fire available to combat their special attack.
These potions are useful for performing a surprise ultimate ability, as players cannot foresee the sudden boost of adrenaline and can get caught unprepared (low health).
These potions can be used to increase adrenaline for Regenerate or Rejuvenate (at 75% adrenaline with a shield) abilities, thus healing you. This use effectively turns your Adrenaline potion into a food item:
In combination with Regenerate, the potion's adrenaline boost will heal you 6.25% of your maximum life points.
In combination with Rejuvenate, the potion's adrenaline boost will be converted into a life point boost equal to 10% of your maximum, although this requires the sacrifice of the remaining 75% of your adrenaline bar that you must have earned through combat, as well as having a shield equipped. For comparison, a shark will heal 1600 LP when one's constitution level is equal to or over 80, such that typical high-level gear with 99 or near-99 constitution, together giving 10,000 LP, would make one dose of Adrenaline potion restore 1,000 LP when used for Rejuvenate, or 625 points with Regenerate. A 3-dose potion therefore offers about the same LP as a shark, although is slower to consume and far more expensive to produce.
Both ingredients are consumable if left-clicked. As such, making these potions without waste requires a bit more attention than most other potions. It's suggested to use the one-button mouse option, effectively forcing a right click so that neither of the ingredients will be accidentally consumed.
The Invigorate aura and its superior versions do not boost the amount of adrenaline restored.
This potion can be made into an Adrenaline flask by using at least six doses of it with a Potion flask. Players do not need a specific level to turn potions into flasks, but since all untradeable potions must be made by the player, the flasks actually have the same level requirement as the potion itself.
Production
Edit
The data in this table is based on the Grand Exchange prices of the potion's ingredients. It is accurate assuming all tradeable ingredients are bought off the Grand Exchange.
* However, the untradeable potion can still be used.
Unfinished potions

Coconut milk • Guam • Rogue's purse • Marrentill • Tarromin • Harralander • Ranarr • Toadflax • Spirit weed • Magic essence • Irit • Wergali • Avantoe • Kwuarm • Snapdragon • Cadantine • Lantadyme • Antipoison+ • Dwarf weed • Weapon poison+ • Torstol • Antipoison++ • Weapon poison++ • Fellstalk

Combat potions

Attack (mix) • Strength (mix) • Defence (mix) • Magic (mix) • Ranging (mix) • Combat (mix) • Super attack (mix) • Super strength (mix) • Magic essence (mix) • Super defence (mix) • Antifire (mix) • Super ranging (mix) • Super magic (mix) • Zamorak brew (mix) • Saradomin brew • Super antifire • Extreme attack • Extreme strength • Extreme defence • Extreme magic • Extreme ranging • Super Guthix rest • Super Saradomin brew • Super Zamorak brew • Overload

Recovery potions

Stat restore (mix) • Energy (mix) • Summoning • Prayer (mix) • Super energy (mix) • Super restore (mix) • Sanfew serum • Adrenaline potion • Super prayer • Prayer renewal

Cures and antipoisons

Relicym's balm (mix) • Antipoison (mix) • Super antipoison (mix) • Yeti curse cure • Sanfew serum • Antipoison+ (mix) • Antipoison++

Skill potions

Agility (mix) • Fishing (mix) • Hunter (mix) • Fletching • Crafting

Unfinished Juju potions
Juju potions

Juju hunter potion • Scentless potion • Juju farming potion • Juju cooking potion • Juju fishing potion • Juju woodcutting potion • Juju mining potion • Saradomin's blessing • Guthix's gift • Zamorak's favour

Weapon poisons
Others

Bravery potion • Cadava potion • Goblin potion • Guthix balance (unf) • Guthix balance • Guthix rest • Potion • Mixture - step 1 • Mixture - step 2 • Shrink-me-quick • Super fishing explosive • Troll potion • 'voice of doom' potion • Olive oil • Sacred oil • Serum 207 • Serum 208 • Yeti curse cure

Tars

Guam • Marrentill • Tarromin • Harralander

Flasks

Agility • Antifire • Antipoison • Antipoison+ • Antipoison++ • Attack • Crafting • Defence • Energy • Extreme attack • Extreme defence • Extreme magic • Extreme ranging • Extreme strength • Fishing • Fletching • Guthix's gift • Guthix balance • Hunter • Juju cooking • Juju farming • Juju fishing • Juju hunter • Juju mining • Juju woodcutting • Magic essence • Magic • Overload • Prayer • Prayer renewal • Ranging • Adrenaline • Relicym's balm • Restore • Sanfew serum • Saradomin's blessing • Saradomin brew • Scentless potion • Serum 207 • Serum 208 • Summoning • Super antifire • Super antipoison • Super attack • Super defence • Super energy • Super magic • Super prayer • Super ranging • Super restore • Super strength • Weapon poison • Weapon poison+ • Weapon poison++ • Zamorak's favour • Zamorak brew • Super Guthix • Super Saradomin • Super Zamorak

Dungeoneering potions

| | |
| --- | --- |
| Weak potions | Magic • Ranged • Melee • Defence • Stat restore • Cure • Rejuvenation • Weapon poison • Gatherer's • Artisan's • Naturalist's • Survivalist's |
| Normal potions | Magic • Ranged • Melee • Defence • Stat restore • Cure • Rejuvenation • Weapon poison • Gatherer's • Artisan's • Naturalist's • Survivalist's |
| Strong potions | Magic • Ranged • Melee • Defence • Stat restore • Cure • Rejuvenation • Weapon poison • Gatherer's • Artisan's • Naturalist's • Survivalist's |