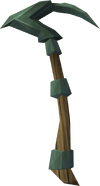 The adamant pickaxe is a pickaxe stronger than the mithril pickaxe. It can be used in combat or in Mining to mine rocks. It requires 40 Attack to wield and 31 Mining to mine with. It is one of the fastest pickaxes to mine with, and it takes a minimum of 1.8 seconds to gather ore from rocks with this pickaxe. It can be created after the completion of Perils of Ice Mountain with 75 Smithing and 2 adamant bars awarding 125 Smithing experience. It is a reward from Treasure Trails.
The adamant pickaxe can be gilded by the liquid gold nymph after receiving the full golden mining suit, creating the gilded adamant pickaxe. It is cosmetic and gives no more bonuses than the regular pickaxe.
As of 17 June 2013, this pickaxe can be stored on the tool belt.
Combat Stats
Requirements
40
Class
Slot
Melee
Tier
40
Weapons
Main
Off
Damage
298
-
Accuracy
628
-
Style
Crush
Range
1
Attributes
Damage reduction
Armour
0
PvM:

0%

PvP:

0%

Life points
0
Style bonuses
Prayer
0

0

0

0

Attack speed
Average

Interval: 3.6 seconds

[FAQ] • [doc]
Adamant pickaxe
-
125 XP
-
5,359
Requirements
Smithing level
75
Perils of Ice Mountain
Members only
No
Materials
Item
Quantity
Price
Total
Adamant bar
2
3,556
7,112
Drop sources
Edit
This list was created dynamically. For help, see the FAQ.
To force an update of this list, click here.
For an exhaustive list of all known sources for this item, see here.
Store locations
Edit
This list was created dynamically. For help, see the FAQ.
To force an update of this list, click here.
Disassembly
Edit
Like all other adamant weapons, the adamant pickaxe used to require level 30 Attack to wield; this was changed to level 40 Attack with the Evolution of Combat.
Melee weapons
Ranged weapons
Tools
 Hatchet
 Pickaxe
Armour
Rewards
Other

Treasure Trail

Trimmed
Gold-trimmed
Heraldic armour
Other
 Cane
Ad blocker interference detected!
Wikia is a free-to-use site that makes money from advertising. We have a modified experience for viewers using ad blockers

Wikia is not accessible if you've made further modifications. Remove the custom ad blocker rule(s) and the page will load as expected.