Adamant equipment is equipment stronger than mithril equipment, but weaker than rune equipment. As with all adamant items, they have a dark greenish colour. Interestingly enough, this armour is heavier than any other equipment, even rune. Therefore, it is recommended to move on to rune armour as soon as possible. The armour has decent stats, despite its weight. It has an advantage because of the huge price difference compared to rune. Because of this, many people choose adamant armour over rune when they go to PvP areas.
Adamant weapons
require an
Attack
level of 40 to wield, but specific weapons also require various other stats to use (the halberd, for example, requires 15
Strength
).
Melee weapons
Edit
Main-hand
Edit
Ranged weapons
Edit
Main-hand
Edit
Adamant armour
(also known as
addy armour
or
adam armour
) is the third highest quality
armour
on the standard metal armour spectrum (bronze to dragon). Adamant armour requires 40
Defence
to wear. Adamant armour also comes in silver and gold trimmed versions, both of which can be found from level 2
Treasure trails
.
In the March 2012 Behind the scenes, it was announced that Adamant armour would receive a graphical update along with black-dragon equipment and various other armours.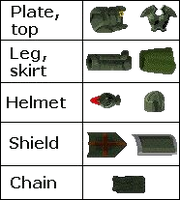 Melee armour
Edit
Item
Price
Members?
Other requirements
Adamant helm
1,589
No
None
Adamant sq shield
1,185
No
None
Adamant full helm
1,260
No
None
Adamant chainbody
1,683
No
None
Adamant kiteshield
6,191
No
None


Adamant berserker shield
Fully charged: 100 Fist of Guthix tokens
Uncharged: 14,887
No
45 Defence


Adamant spikeshield
Fully charged: 50 Fist of Guthix tokens
Uncharged: 4,349
No
45 Defence
Adamant platelegs
2,743
No
None
Adamant plateskirt
3,006
No
None
Adamant platebody
8,822
No
None
Adamant boots
1,668
No
None
Adamant gloves
Untradeable, 2,500 from
Culinaromancer's Chest
Yes
Completed 7 Recipe for Disaster sub-quests


Adamant gauntlets
2,636
No
Unknown edit
Treasure Trails
Edit
Ornamental and trimmed armour have identical statistics compared to regular adamant armour. Members can obtain the armour from treasure trails.
Gold-trimmed
Edit
Free-to-play
Members

| | |
| --- | --- |
| Tank | |
| Power | |
| PvP | |
| Unreleased | |
Melee equipment

| | |
| --- | --- |
| Normal | |
| Dungeonering | |
| Other | |

Magic equipment

| | |
| --- | --- |
| Normal | |
| Dungeonering | |
| Other | |

Ranged equipment

| | |
| --- | --- |
| Normal | |
| Dungeonering | |
| Other | |

Other
Melee weapons
Ranged weapons
Tools
 Hatchet
 Pickaxe
Armour
Rewards
Other

Treasure Trail

Trimmed
Gold-trimmed
Heraldic armour
Other
 Cane
Ad blocker interference detected!
Wikia is a free-to-use site that makes money from advertising. We have a modified experience for viewers using ad blockers

Wikia is not accessible if you've made further modifications. Remove the custom ad blocker rule(s) and the page will load as expected.