Achievement banner
Discuss

6
22,529pages
on this wiki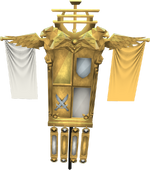 The Achievement banner is an item purchasable from Solomon's General Store for 1000 RuneCoins, or 900 for members. It can be planted on the ground, similar to a Dominion marker, which when read, displays the player's achievements. It also speaks the player's achievements.
The phrase that the banner speaks in between saying your name, total experience, combat level, total level and quest points can be customised to say a number of phrases.
Phrases
Working towards a party hat.
Ex-noob.
If you're feeling down, level up!
Zamorak till I die.
Guthix till I die.
Saradomin till I die.
Born to PK.
Will dance for cash.
RuneScape Classic veteran.
Happy holidays!
I challenge you to a duel!
Secret penguin.
Ask me anything.
Aiming for a comp cape.
I'd do anything for XP, but I won't do that.
I am victorious!
Offering items for sale.
Seeking a Dungeoneering party.
Desperately seeking clanmates.
Best update ever!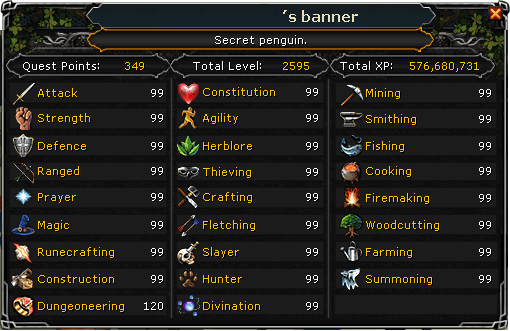 Trivia
The description of this item in Solomon's General Store is strange in the fact that it references a player's Hitpoints instead of the current term Life Points.
There is currently no way for players to ignore the banners message at this time.
"I'd do anything for XP, but I won't do that." is a reference to the song "I would do anything for love" by Meat Loaf.
There is currently a glitch with Diango. Instead of the achievement banner being with the Holiday Items, you have to collect it in a members world.