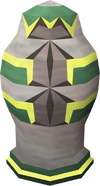 The Accursed urn (r) is an item made by adding an Air rune to the Accursed urn (nr), giving 1 Prayer experience. When ashes are first added to it, it becomes an Accursed urn. An equivalent of 1%-1.3% is gained for every Imp killed.
Accursed urn (r)
-
1 XP
-
-
Requirements
Prayer level
1
Members only
No
Materials
Item
Quantity
Price
Total
Accursed urn (nr)
1
1,032
1,032
Air rune
1
64
64
Total price
1,096
Disassembly
Edit
Cooking
Divination
Farming
Fishing
Hunter
Mining
Prayer
 Impious
 Accursed
 Infernal
Runecrafting
Smithing
Woodcutting
Ad blocker interference detected!
Wikia is a free-to-use site that makes money from advertising. We have a modified experience for viewers using ad blockers

Wikia is not accessible if you've made further modifications. Remove the custom ad blocker rule(s) and the page will load as expected.