Abyssal Area
Discuss

9
22,530pages
on this wiki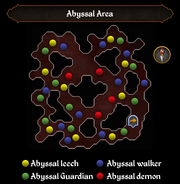 The Abyssal Area can be accessed by using the code ALR in the Fairy Rings network (requires partial completion of Fairytale II - Cure a Queen).
The abyssal area contains:
Unlike the Abyss, it is not a multicombat area. There is only one fairy ring back to Zanaris in the south-east corner of the cavern; the only other exit is via teleport.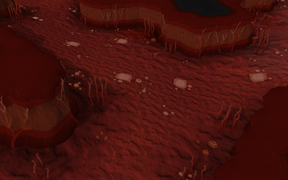 Here, only the Abyssal demons are not aggressive, the others follow the normal rules of aggressiveness. So for higher combat levelled players the only monsters that are aggressive will be the Abyssal walkers. Walkers, guardians, and leeches spawn extremely fast, while abyssal demons take longer to respawn. Despite being in the same plane as the Abyss, and having almost the same name, the combat rules in this area are just like in any normal dungeon: players are not skulled when entering this zone, so there is no need to wear a Forinthry brace here. The monsters in this area do drop runecrafting pouches, which are useful for Runecrafting.
Training / Utility Analysis
This area is much safer than the runecrafting Abyssal area and can be used for more safely/conveniently obtaining drops from Abyssal monsters, including abyssal charms.
This area is somewhat convenient for abyssal demon hunting/training because of its proximity to the Zanaris bank through the fairy ring, the abundance of abyssal demons, and because it is less crowded. However, the aggressiveness of some lower-level abyssal monsters combined with their respawn speed makes training on a particular monster (such as the abyssal demon or walker) somewhat inconvenient.
Because this area is connected via fairy ring, players can opt to keep Protect from Melee constantly on, recharging at the altar north of Mudskipper Point (fairy ring AIQ) when needed.