Aberrant spectre
Discuss

61
22,527pages
on this wiki
Loading...
Slayer tower Pollnivneach dungeon
Aberrant spectre
Release date
26 January 2005 (Update)
Members?
Yes
Combat level
104
XP per kill
288 (and 95 experience)
Slayer level
60
Slayer XP
115 (138 on Contract)
Assigned by
Chaeldar, Sumona, Vannaka, Duradel or Lapalok, Kuradal
Always drops
None
Examine text
A very smelly ghost.

Combat stats
LP
Max hit
5820
208
Attack
Defence
Ranged
Magic
1
52
1
52
Other
Immune to Poison?
Immune to Stun?
No
No
Attack Speed

Speed 6 (Interval: 2.4 seconds)

Aggressive?
Poisonous?
No
No
Attack style
Weaknesses
Magic

Thrown weapons
Salve amulet
Salve amulet (e)

[view template]
Aberrant spectre
Release date
26 January 2005 (Update)
Members?
Yes
Combat level
112
XP per kill
233 (and 76.9 experience)
Slayer level
60
Slayer XP
60.6
Assigned by
Chaeldar, Sumona, Vannaka, Duradel or Lapalok, Kuradal
Always drops
None
Examine text
A very smelly ghost.

Combat stats
LP
Max hit
2800
224
Attack
Defence
Ranged
Magic
Unknown
Unknown
Unknown
Unknown
Other
Immune to Poison?
Immune to Stun?
No
Unknown edit
Attack Speed

Speed 6 (Interval: 2.4 seconds)

Aggressive?
Poisonous?
No
No
Attack style
Weaknesses
Magic

Arrows
Salve amulet
Salve amulet (e)

[view template]

Aberrant spectres
are
Slayer
monsters that require level 60 Slayer to kill. They frequently drop large amounts of valuable herbs and herb seeds. A
Macaw
Summoning familiar
is helpful as it will improve herb drops (requires level 41
Summoning
), as will
herb gloves
(a reward from the
Fist of Guthix
minigame
). They are an excellent source of medium-high level herbs such as ranarrs and lantadymes, and also drop various low-high priced seeds.
Strengths and weaknesses
Edit
Aberrant spectres have an extremely potent stench that drains stats and life points very quickly, so they are very deadly to fight without proper protection. A nose peg, slayer helmet, or full slayer helmet protects against the stench.
They are weak against either thrown weapons or arrows, depending on their location – spectres in Morytania Slayer Tower are weak to thrown weapons, whereas spectres in Pollnivneach Slayer Dungeon are weak to arrows.
Spectres use a fast and very accurate Magic-based attack with a max hit of 297, which will hit fairly often even with good magic defence. If fought without a nose peg or slayer helmet you will be hit for heavy damage every hit, and suffer massive ability drains.
Note that their attacks can be especially hard on dual-use beast of burden/ combat familiars like the spirit terrorbird, to the point that one's stay is usually limited by the familiar's lifespan, rather than one's own. 
If a tank approach is desired when killing aberrant spectres, a shield or shield-bow is of utmost importance, as it enables the use of defensive and healing abilities. It is possible for a player in Karil's armour with a dark bow or blisterwood stakes and a shield to stay for an extended period of time with minimal food or prayer if Rejuvenate, with shield, or Guthix's Blessing, without shield, is used upon filling the adrenaline bar.
Another easy and fast method to kill aberrant spectres in the Slayer Tower would be to use Blisterwood stakes, Sagaies, or Dragon darts with either offhand dragon darts or a d'hide shield with full dragonhide armour along with the proper protection while using ranged skills, using rejuvenate and regenerate as and when needed Using this method, along with ava's accumulator will allow for extended trips with minimal loss of ammunition as well as food. 
Spectres have a short-range magical attack. Players can take advantage of this in the Slayer Tower and Pollnivneach Slayer Dungeon by luring them into an obstacle and using a weapon with a large attack range.
Locations
Edit
Morytania Slayer Tower (middle floor)
Edit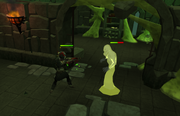 These aberrant spectres are located on the middle (first) floor of the Morytania Slayer Tower, on the east side. There are gates that can be opened to get to them at the entrances to their area.
There are a number of ways to reach the slayer tower. The fastest is ring of slaying, which teleports a player directly outside the tower. Alternatively, the C-K-S fairy ring, Kharryl teleport or Kharryl Portal will teleport players close-by to return. The player can also use a Mask of Broken Fingers, a Mask of the Abyss or their upgraded versions to teleport to the tower.
The spectres here are weak to thrown weapons, so the best option is to use sagaies or blisterwood stakes. They are also aggressive to lower-level players, so multiple spectres will attack simultaneously, creating a possible risk of death to the player unless they bring a shield and use defensive abilities.
In addition, the spectres in the tower are in lower numbers then the Pollnivneach Slayer Dungeon and are fairly spread, so players may need to wait for the spectres to respawn on occasion. Many players also come here to do their tasks so it might be suggested to use their other location for a slayer task.
Killing aberrant spectres at the Slayer Tower is often used as a way to make money, due to the short distance between the tower and the bank in Canifis. Fast teleport options to a bank, such as the ring of kinship or TokKul-Zo, will reduce banking time further. Another possibility is to use the Tool leprechaun at the farming patch due south of the Slayer Tower to note the herb drops and then return to the tower.
Should a player die, it will take around 2–3 minutes to run from Canifis to their gravestone.
Players who use Summoning familiars can recharge their summoning points at the obelisk on the way to the tower (players with a menagerie at their house can also recharge summoning there).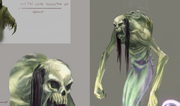 These aberrant spectres are located in Pollnivneach Slayer Dungeon, in the central area of the bottom floor of the dungeon. The dungeon is accessed by descending the well in Pollnivneach. Players will need to have completed the Smoking Kills quest to access the dungeon. In the dungeon you will be subjected to harmful smoke as well as the Aberrant spectre's stench, so a slayer helmet is mandatory. Using only the individual components of the helmet will result in almost certain death, either from the spectres' stench or the smoke in the well.
Quick access to the dungeon can be gained by using ring of slaying to teleport to Sumona, moving one's house to Pollnivneach and using Teleport to House, or using a Pollnivneach tablet (requires completion of the Love Story quest).
These spectres are weak against arrows, so a crystal bow or magic shieldbow with broad arrows is very helpful in dispatching them quickly. They are non-aggressive. Utilising a combat familiar would greatly speed up kills, as there is a Summoning obelisk in the same area as the spectres.
This place is more deserted than the Slayer Tower, making it an ideal option to finish a slayer task quickly and efficiently. A cannon may be used here, allowing for much faster kills. However, this will cause many spectres to attack at once, making protection prayers a must to tank their attacks. With the Evolution of Combat update, it is recommended to use a cannon here with healing abilities such as Soul Split and Rejuvenate, as protection prayers only offer 50% protection against their magic attacks.
Champions' Challenge
Edit
Aberrant spectres are one of the races who have lesser champions in the Champions' Challenge distraction and diversion. To fight the Aberrant Spectre Champion, the player must kill aberrant spectres until one drops a Champion scroll, which is an extremely rare drop.
Weapons and armour
Edit
Other drops
Edit
Rare drop table drops
Edit
This monster drops items from the rare drop table.
The ring of wealth improves the chances if equipped but is not required to access the table.
Show/hide rare drop table

Item
Quantity
Rarity
GE Market Price
Coins
250; 381; 450; 3,000; 9,000; 12,000
Common
Not sold
Uncut sapphire
1
Common
1,142
Uncut emerald
1
Common
1,792
Uncut ruby
1
Common
3,576
Loop half of a key
1
Uncommon
8,548
Tooth half of a key
1
Uncommon
12,668
Uncut diamond
1
Uncommon
7,160
Uncut dragonstone
1
Rare
14,935
Dragonstone
1
Rare
9,966
Dragon dagger
1
Uncommon
17,221
Rune battleaxe
1
Rare
24,627
Rune javelin
5
Rare
1,270
Adamant javelin
20
Very rare
920
Rune spear
1
Very rare
12,048
Dragon spear
1
Very rare
36,856
Dragon dagger
50 (noted)
Very rare
861,050
Rune kiteshield
1
Very rare
32,145
Shield left half
1
Very rare
65,188
Dragon helm
1
Very rare
59,636
Adamant bolts
200
Uncommon
17,400
Rune arrow
150–200; 500
Rare
29,850–199
Onyx bolts
150
Rare
1,303,050
Battlestaff
200 (noted)
Rare
1,665,400
Air orb
1,000 (noted)
Rare
1,418,000
Fire orb
1,000 (noted)
Rare
1,612,000
Vecna skull
1
Very rare
138,745
Water talisman
1
Uncommon
4,721
Earth talisman
25–35 (noted)
Uncommon
19,825–27,755
Fire talisman
25–35 (noted)
Uncommon
50,450–70,630
Chaos talisman
1
Uncommon
227
Nature talisman
1
Uncommon
270
Pure essence
500–15,000 (noted)
Uncommon
42,500–1,275,000
Nature rune
47–77
Rare
5,217–8,547
Soul rune
20
Rare
2,420
Death rune
50; 121
Rare
93
Blood rune
50
Rare
8,150
Raw swordfish
125 – 250; 1,000 (noted)
Uncommon
37,750–302
Raw shark
250–500 (noted)
Uncommon
246,500–493,000
Big bones
150 – 500 (noted)
Uncommon
67,350–224,500
Coal
150–7,500 (noted)
Uncommon
41,700–2,085,000
Adamantite ore
150–800 (noted)
Uncommon
227,700–1,214,400
Silver ore
100 (noted)
Rare
10,500
Adamant bar
1,000–7,000 (noted)
Rare
3,168,000–22,176,000
Runite ore
100 (noted)
Rare
1,038,500
Rune bar
1,50,150 (noted)
Rare
13,002–1,950,300
Clean ranarr
33 (noted)
Uncommon
74,448
Clean toadflax
25–250 (noted)
Uncommon
95,050–950,500
Clean snapdragon
30–120 (noted)
Uncommon
106,530–426,120
Clean torstol
10–100 (noted)
Uncommon
118,420–1,184,200
Saradomin brew (4)
250 (noted)
Very rare
181,000
Watermelon seed
3
Uncommon
6,030
Yew seed
1–50
Rare
71,385–3,569,250
Magic seed
1–6
Rare
160,602–963,612
Palm tree seed
10
Rare
1,064,590
Snapdragon seed
1
Rare
2,196
Torstol seed
1–31
Rare
78,509–2,433,779
Fellstalk seed
2
Rare
932
Yew logs
100–20,000 (noted)
Rare
56,100–11,220,000
Aberrant means absurd or abnormal, spectre means ghost.
The name of the monster used to be spelled "Aberrant specter", but it was changed to the British -re ending in a hidden update several years ago.
This monsters examine is similar to that of the Plague frogs, which is "A very smelly frog."
With the bloom lighting update on 28 November 2011, the appearance of aberrant spectres changed for players who enabled the feature.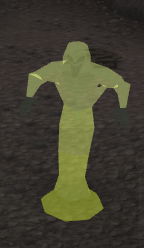 Slayer Tower

Crawling Hand • Banshee • Infernal Mage • Bloodveld • Aberrant spectre • Gargoyle • Nechryael • Abyssal demon

Fremennik Slayer Dungeon

Cave crawler • Rockslug • Cockatrice • Pyrefiend • Basilisk • Jelly • Turoth • Kurask • Aquanite

Lumbridge Swamp Caves
Poison Waste Slayer Dungeon
Pollnivneach Slayer Dungeon

Banshee (Mighty) • Cave crawler (Monstrous) • Basilisk (boss) • Turoth (Mightiest and Swarming turoth) • Kurask (overlord) • Aberrant spectre

Meiyerditch Dungeon
God Wars Dungeon

Pyrefiend • Bloodveld • Spiritual ranger • Spiritual warrior • Spiritual mage

Jadinko Lair

Mutated jadinko baby • Mutated jadinko guard • Mutated jadinko male

Polypore Dungeon

Grifolaroo • Grifolapine • Ganodermic runt • Ganodermic beast

Daemonheim

Crawling hand • Cave crawler • Cave slime • Pyrefiend • Night spider • Jelly • Spiritual guardian • Seeker • Nechryael • Edimmu • Soulgazer

Others

Gelatinous Abomination • Desert Lizard • Mogre • Harpie Bug Swarm • Killerwatt • Molanisk • Terror dog • Brine rat • Fever spider • Mutated zygomite • Cave horror • 'Rum'-pumped crab • Dust devil • Skeletal Wyvern • Jungle strykewyrm • Desert strykewyrm • Dark beast • Ice strykewyrm

Specials

Bork • Skeletal horror • Phoenix • Jade vine(wild)

Slayer pets

| | |
| --- | --- |
| Soul Wars | Creeping hand • Minitrice • Baby basilisk • Baby kurask • Abyssal minion • TzRek-Jad |
| Social Slayer | |
| Other | Cresbot |