Abbess Benita is the current leader of the Abbey of St Elspeth Citherede. She had considered retiring and making Sister Anna the abbess instead, but Anna's murder forced her to call in an adventurer to investigate, during the quest One Piercing Note. She attempted to keep the remaining sisters safe, but failed to protect Sister Elena and Sister Catherina from the Killer. After the Killer, revealed to be an insane Sister Anna, falls to her death, Benita continues to lead the abbey, albeit with the overshadowing fear that the abbey will soon die out due to lack of applications.
Before Benita joined the abbey, she lived a peaceful life in Varrock. The bookcases in the abbey contain two books written by Benita, named 'A Commentary on the Book of Saradomin' and 'The Godwars as Allegory of the Spiritual Life'.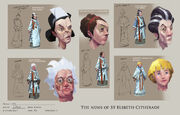 High Priest
Abbot
 Langley
 Benita
Father
Brother
Sister
Other
† denotes that a priest or priestess is deceased, ‡ denotes that a priest or priestess is no longer a Saradominist
Ad blocker interference detected!
Wikia is a free-to-use site that makes money from advertising. We have a modified experience for viewers using ad blockers

Wikia is not accessible if you've made further modifications. Remove the custom ad blocker rule(s) and the page will load as expected.