A 22lb shot is an item used in shot put in the Warriors' Guild. The shot put room is on the first floor of the Warrior's Guild in the north-east room. There is a 18 lb shot put lane and a 22 lb shot lane. Before starting shot put, you must have nothing equipped in the glove, weapon and shield slot.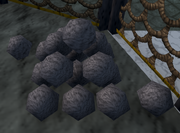 You cannot use Telekinetic Grab on these items. Trying to do so will show the message "I can't use Telekinetic Grab on this object."
NPCs
Animated armour
Barrels
Cyclopes
Other activities
 Defensive shield
22lb shot
Shops
Ad blocker interference detected!
Wikia is a free-to-use site that makes money from advertising. We have a modified experience for viewers using ad blockers

Wikia is not accessible if you've made further modifications. Remove the custom ad blocker rule(s) and the page will load as expected.