Ad blocker interference detected!
Wikia is a free-to-use site that makes money from advertising. We have a modified experience for viewers using ad blockers

Wikia is not accessible if you've made further modifications. Remove the custom ad blocker rule(s) and the page will load as expected.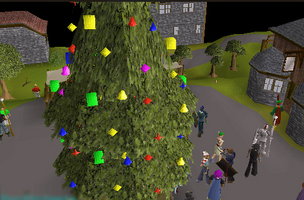 The 2005 Christmas event began on 19 December 2005 and ended on 4 January 2006.
What happened
Edit
The following quotes are taken directly from the RuneScape website:
"
Diango needs help - the Pixie workers whom he hired to help in his workshop aren't working out. They're so accident prone that despite all their hard work, they're getting nothing done. Find Diango down in the Draynor market and he'll tell you where his workshop is. Once there, you'll need to put together some marionettes and paint some baubles, as well as packing them into the appropriate boxes. Talk to the local pixies for more information on what exactly to do once you're down in the workshop.

Once you've finished at least one box-load of puppets, you'll be required to drop them off at the Taverley Members' Gate, where a familiar face will be waiting for you. Completing boxes of puppets will earn you a special woolly hat! If you want to, complete more boxes for even more rewards. Different hats can be achieved by completing 1,2,4 and 8 boxes.

You can also give some boxes of baubles to Rosie, the pixie supervisor. Completed boxes will earn you a special colourful scarf! As with the puppets, more completed boxes will result in different scarves when you complete 1,2,4 or 8 boxes. Rosie has unfortunately had several problems with Imps invading the workshop and stealing all the baubles, so if you don't fancy painting them, you can always retrieve them from the Christmas imps hanging around the Varrock Xmas tree. Don't forget you'll still need to pack them in boxes before you can give them back to Rosie.

Finally, those pesky Imps have not only stolen Rosie's baubles, but all the ones from the Varrock tree too. What is it with Imps anyway? Why are they such thieves? Where do they live anyway? Can they fly? If they can teleport, how come they never drop runes when they die? Rest assured, none of those questions will be answered in this update. However, if you take 5 boxes of decorations, you can decorate the tree yourself! Those that do so will find a special marionette for them under the tree.

If you should be unfortunate enough to misplace or lose your marionette, you can get another one from the large box by the ladder to the pixie workshop. Lost scarves and hats can be retrieved from Diango himself located in Draynor Marketplace.

"
Hats and scarves were given out as part of the 2005 Christmas holiday event. They are non-tradeable and come in four different varieties. If a player destroys or loses their hats and scarves, they can get replacements from Diango in Draynor Village. After obtaining the various Christmas hats and scarves from Diango's workshop, players could take five boxes of baubles to a huge tree in the centre of Varrock. The reward for this was getting one of the marionettes. Plus through a series of dying while having the items on you and picking them up you could keep the baubles as well. You can now see the workshop from room 3 of Pyramid Plunder.
NPCs
Rewards
Related items
Location
Music