"Gun" and "guns" redirects here. For the rare item from Treasure Hunter, see
Imcando pistol
. For the dwarven Ranged weapon, see
hand cannon
.

Julian 'The Guns' is one of the workers supposed to be building the Tower of Life. He is seen repeatedly performing a military press with a log, with the number of lifts he has done appearing above his head on each lift. He counts up to 8,200 - 10,000 before he loses count and then starts over again. He counts at a rate of 100 every 3 minutes, so it takes 5 hours for 'The Guns' to do 10,000 log presses. When he counts high enough, he'll mix up the numbers and then say "Bah! Start again!"
Players need to speak to him in the Tower of Life quest in order to obtain a builder's shirt.
He also plays a role in the Deadliest Catch quest. Players will need to ask him to take on the job as rower for the boat. He will agree to do so, although only after you have made him a Sea legs potion. After the completion of the quest, players find him near the fishing guild bank and use a beer on him to obtain a builder's shirt. Jones reveals his name to be Julian after the quest.
He can be pickpocketed for 8 Thieving experience, the same as a man, and a triangle sandwich.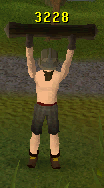 Ad blocker interference detected!
Wikia is a free-to-use site that makes money from advertising. We have a modified experience for viewers using ad blockers

Wikia is not accessible if you've made further modifications. Remove the custom ad blocker rule(s) and the page will load as expected.