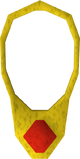 The 'perfect' necklace is a necklace made from smelting a 'Perfect' gold bar and a Ruby. It is given to the man in the Al Kharid Mines to complete a part of the Family Crest.
This item is not to be confused with the "clean necklace", (which appears as a Ruby necklace), extracted from a sample at the Varrock Museum. The "clean necklace" is later enchanted into a Digsite pendant.
Combat Stats
Requirements
None
Class
Slot
None
Tier
None
Weapons
Main
Off
Damage
-
-
Accuracy
-
-
Style
-
Range
-
Attributes
Damage reduction
Armour
0
PvM:

0%

PvP:

0%

Life points
0
Style bonuses
Prayer
0

0

0

0

[FAQ] • [doc]
Although the 'perfect' necklace is essentially a Ruby necklace, it cannot be enchanted with the Enchant Level 3 Jewellery spell.
Though the 'perfect' necklace is not tradeable, it can be the target of a Low Alchemy or High Alchemy spell, with results identical to the ruby necklace.
The 'perfect' necklace looked like the old icon of a ruby necklace.
Ad blocker interference detected!
Wikia is a free-to-use site that makes money from advertising. We have a modified experience for viewers using ad blockers

Wikia is not accessible if you've made further modifications. Remove the custom ad blocker rule(s) and the page will load as expected.